Speed Comparision Of GPRS With Other Networks
| | | |
| --- | --- | --- |
| Type | Uplink (Sending) | Downlink (Receiving) |
| GPRS | 14 kbps | 28-64 kbps |
| GSM CSD | | |
| HSCSD | 28 kbps | 28 kbps |
| Dial-UP | 56 kbps | 56 kbps |
| ISDN Standard | 64 kbps | 64 kbps |
| | | 512 kbps |
| Broadband | 2 Mbps | 2 Mbps |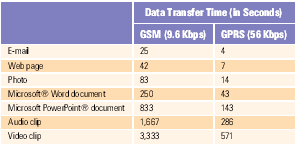 Data Transfer Comparison of GSM with GPRS
GPRS handset Classes:
Class A mobile phones can be connected to both GPRS and GSM services simultaneously.
Class B mobile phones can be attached to both GPRS and GSM services, using one service at a time. Class B enables making or receiving a voice call, or sending/receiving an SMS during a GPRS connection. During voice calls or SMS, GPRS services are suspended and then resumed automatically after the call or SMS session has ended.
Class C mobile phones are attached to either GPRS or GSM voice service. You need to switch manually between services.